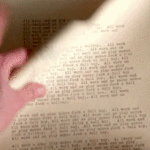 Have you noticed the new formula of every Netflix / Amazon / whatever streaming "genre" show?

Ep 1 + 2: The Mystery.
Ep 3 – 6: Fambly and Crying.
Ep 6: Mild cliffhanger.
Ep 7: DEEP FLASHBACK: prequel episode exposits the entire mythology.
Ep 8: Resolve Ep 6, but set up several more cliffhangers for a Season 2 that's probably not going to happen.

Seriously, it feels like this Episode Seven hack has been in almost every series I've watched in the last several years.

Once you see it, you won't be able to un-see it. I'm sorry.
External feed Read More at the Source: https://www.jwz.org/blog/2022/06/episode-seven/